SHORT JOHN CARGO UNISEX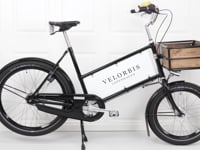 Cargo bicycles goes all the way back to the early 20 century, and were used by tradesmen to deliver milk, bread, and other goods in the absence of the automobile. In Copenhagen, Denmark, bike messengers called 'svajeres' carted goods all around the city, and nearly every company owned at least one cargo bike to handle their deliveries.
Our Velorbis Short John cargo cycle is a re-make of the original Danish delivery bicycle from the 1930s. This Butcher's bike was also remade in the 1980s by Danish bike builders Schmidt & Co. (S.C.O). Our Cargo bicycle is 100% made in Germany based on the old craftsmanship of lugged steel frames. This transport bike is a stunning 7 kg (18 lbs) lighter than its predecessor.
Short John CARGO UNISEX IN STOCK
Short John CARGO UNISEX custom made to order